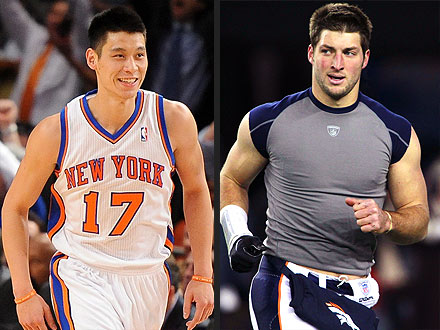 Is Jeremy Lin the Tim Tebow of the NBA? Right now, he is. How does a virtual nobody (an undrafted free agent from Harvard with no athletic scholarship and no athletic awards) suddenly take the league by storm? Lin was sleeping on his teammate Landry Fields' couch just a week ago; he is now living in David Lee's (former Knick) apartment, which is the same plush apartment once occupied by Amar'e Stoudemire before he moved to Manhattan. When Lin finally got the chance to perform due to teammate injuries, superstar egos, and a poor team record, he showed he was a true superstar. More importantly, he has rallied the Knicks to a seven game winning streak!
The excitement surrounding Lin's clutch game-winning shots and record-breaking points has captured the world's attention. In Asia, he is the most searched item on various Chinese search engines. Lin's Twitter followers erupted from just 25,000 to 300,000 in less than two weeks. Quite the popular guy, considering just two weeks ago Lin was about to get cut by his third NBA team.
Tim Tebow also took the nation by storm during the NFL season. Tebow was EVERYWHERE, and his hard work and determination in the face of critics only seemed to make him more successful. It is easy to point out the similarities between Tebow and Lin. For one, they both started on the bench at the beginning of their seasons. Each have been the force leading their losing teams on unexpected winning streaks. Both Tebow and Lin have used their sport as a platform for their belief in God; they are both Christians, and appear to live wholesome lifestyles.
Tebow had high expectations placed on him (recruited out of high school, Heisman trophy winner as a junior, and first round draft pick), while Lin had no expectations placed on him. Both are underdogs, but I see Lin as more of an underdog and Tebow as unorthodox in the way he plays football. Together, they have both given people a reason to believe. They both speak about their teams first, and appear to be very humble. Aside from also saving two coaches whose jobs were in jeopardy, these two athletes have captivated the world and will continue to do so.