Posted by
SportsForce
in
College
,
Recruiting
, tags:
Actively Recruited
,
College Recruiting Letters
,
College Sports
,
College Sports Recruiting
What does it mean to get actively recruited?
This is a topic that constantly pops up when our team of college recruiting advisors has conversations with college coaches and student-athletes and their families.
Most families think their child is getting actively recruited if they are receiving emails or letters.  This is WRONG and a common myth that continues to exist in the college recruiting process.  Being actively recruited depends on where you're at, freshman, sophomore, junior, or senior year.
"Blanket" emails and letters are being sent to often hundreds, and sometimes thousands, of student-athletes by individual college coaches.
Here's an example "blanket" email  (Click on the image to enlarge):
After July 1st of your junior year, college coaches are allowed to call you.  If you're a junior or senior and you are aren't receiving phone calls, and still just receiving emails or letters in the mail, that means you're not being actively recruited.
Getting actively recruited is a common myth that usually costs many student-athletes the chance to maximize their college recruiting opportunities.
View the quick video below to hear SportsForce Recruiting's founder and CEO Andrew Beinbrink explain the importance of being actively recruited and describe a real life example of one of our college recruiting experts. (View Nate Nelson's story below)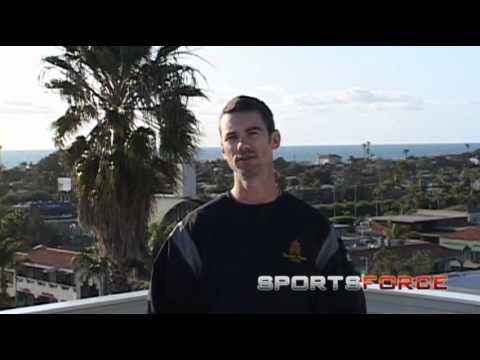 A Real Life Example of NOT Being "Actively Recruited"
One of our college recruiting advisors, Nate Nelson, who played football at UC Davis, tells this story over and over again. He came out of San Diego as a pretty solid football player.  He started getting letters as a sophomore and as a junior. He thought, "Oh this is great, I'm going to get recruited my senior year!" Next thing he knows, his senior year season has gone by. It's the spring after his senior year of football and he's got nothing. There are no offers.  No schools are interested, no opportunities, and he's scrambling to find a school that would be a good fit for him.
Now, understand this, he had received letters before his senior year from UCLA and from USC, and they fell off. It just didn't happen. The bottom line is he wasn't on their recruiting board. He was never getting actively recruited…
What was actually happening is, he was being marketed to by these various college programs. The school that he ended up going to was a Division I-AA school called UC Davis. It ended up being the exact right fit for him both athletically and academically.
It ended up being a great choice for him.  However, the stress that he and his family had to deal with as being an unsigned senior was almost unbearable.  This is what we try to help avoid.
No Comments »