Posted by
Dave Vinluan
in
Football
,
News
,
NFL
,
Off Season
, tags:
Bounty
,
Gate
,
Gregg Williams
,
Joe Vitt
,
Mickey Loomis
,
New Orleans
,
NFL
,
Roger Goodell
,
Saints
,
Sean Payton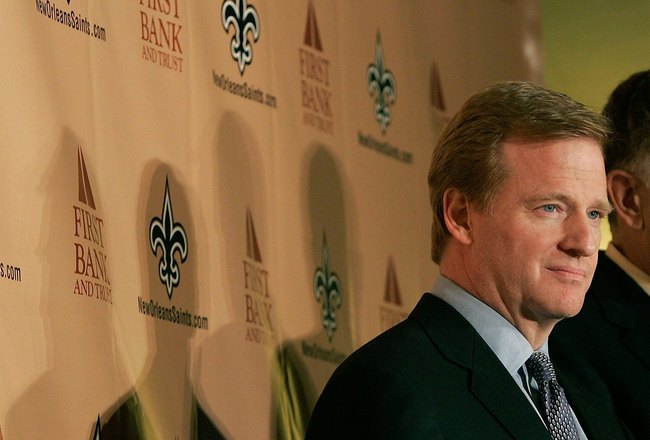 Well, now we know why it's taken so long. Cross him and he will destroy you. Roger Goodell will do everything in his power to maintain the integrity and image of the NFL. He has done so with his iron fist ruling heard worldwide on the infamous Bounty Gate. Like a gangster in the night, Goodell puts a bullet to the heart of the Saints organization, handing suspensions and fines to coaches and front office staff. Let's take a look at the damage:
–    $500,000 Fine. In addition, Saints forfeit their second-round picks in the 2012 and 2013 NFL drafts.
–    Head Coach Sean Payton is suspended without pay for the 2012 season, effective April 1.
–   General manager Mickey Loomis is suspended without pay for the first eight regular-season games of the 2012 season. $500,000 fine.
–     Former Saints (and current St. Louis Rams) defensive coordinator Gregg Williams is suspended indefinitely from the NFL. Commissioner Goodell will review Williams' status at the conclusion of the 2012 season and consider whether to reinstate him.
–    Assistant coach Joe Vitt suspended without pay for the first six regular-season games of the 2012 season. $100,000 fine.
The two worst being Head Coach Sean Payton's year long suspension, and no eight million dollar salary for the year. The other being former Saints Defensive coordinator and bounty gate mastermind Gregg Williams being suspended indefinitely. I think it's safe to say he will never be a coach in the NFL again.
Who knew Roger Goodell had it in him? Supposedly he had known about the Saints bounty program in the past and gave fair warning for them to stop. With Goodell being fairly new as NFL commish, the Saints didn't take him seriously and continued to run "business as usual." Don't try to undermine the commissioner, in his statements about the ruling, Goodell said, "No one is above the game or the rules that govern it." Were these suspensions harsh? Absolutely not. The time fits the crime.
The message has been sent to every team in the NFL and they better listen. Don't cross the boss. If there were any plans for teams to continue their bounty programs, they better take a hard look at themselves, or they better start posting their resumes on monster.com. Because the punishments will be equal if not harsher. He's trying to bring justice and integrity to a game that is taking over as America's pastime. One message the other 31 teams should take away from this: Roger Goodell may not be the guy with the biggest arms, or the man with the greatest charm, but mess with him and he will cause you a lot of harm. Roger Goodell is Batman, and justice will be served.
No Comments »