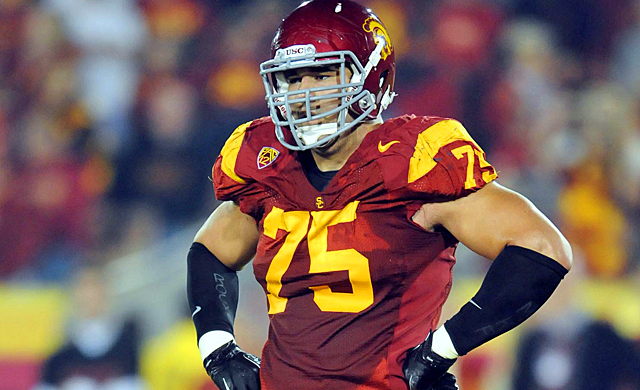 Think Matt Kalil is a no-brainer pick for the Vikings at #3? Think again. The allure of a cornerstone Left Tackle being a necessity for long-term success in the NFL is a thing of the past. Don't believe me? Let's take a look at the starting left tackles on last 5 Super Bowl Champion teams…
David Diehl (twice)- Giants (a fifth round pick at guard)
Chad Clifton – Packers (second round),
Jermon Bushrod – Saints (fourth round)
Max Starks – Steelers (third round pick)
That's ZERO 1st round draft picks, and only one of them was taken as early as the 2nd round. Still not convinced? Let's take a look at the last few "Can't Miss" left tackles taken in the top 5…
Joe Thomas (3rd Overall)
Jake Long (1st Overall)
Jason Smith (2nd Overall)
The Dolphins have made the playoffs 1 time since drafting Long, and the Browns barely register a pulse on the football field, let alone even threaten to make the playoffs each year. Now, that's not to say that Thomas and Long aren't great players…they are. But it comes down to the argument of whether or not the premium draft pick and salary (both players are in the top 15 salaries in the NFL) it takes to get these players, correlates to wins.
Taking the argument a bit further we can look at starting left tackle for each team that made the playoffs in the 2011 season. According to ProFootballFocus, amongst all offensive tackles, the starting playoff left tackles were rated 6th (Duane Brown), 12th (Andrew Whitworth), 15th (Jermon Bushrod), 16th (Matt Light), 32nd (Joe Staley), 33rd (Jeff Backus), 51st (Chad Clifton), 52nd (Bryant McKinnie), 56th (Sam Baker), 60th (Jonathan Scott), and 64th (David Diehl). Not that advanced stats are entirely telling, but there seems to be little correlation between a team's left tackle and that team's success.
So, turning this back to the Vikings pick, few would argue with the selection of Kalil, but it can very easily be argued that the Vikings should take a very long look at cornerback Morris Claiborne. While today's offenses have learned to scheme around offensive line deficiencies, the same cannot be said defensive secondaries. Opposing quarterbacks will undoubtedly find a way to pick on a team with secondary weaknesses and with the Vikings having to face Aaron Rodgers, Matthew Stafford, and Jay Cutler 6 games a year you better believe the idea has crossed their minds.
Will the Vikings ignore this argument and select Kalil as the traditional line of thinking suggests they should? Possibly, but don't be surprised if they go in another direction and don't be surprised if that ends up being the right decision.